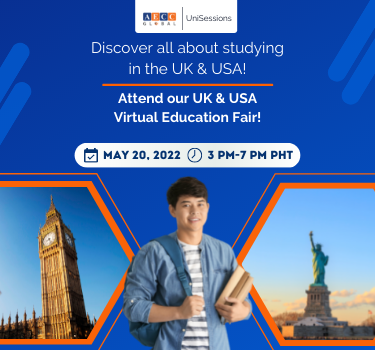 What is the UK and USA Virtual Education Fair?
Studying abroad is a huge decision, especially for a first-time international student. There are so many factors to consider along the way when you're beginning your process to study abroad. At
AECC Global, Philippines
we travel along with you to help you realise your dreams. 
.
Attend AECC Global's UK and USA Virtual Education Fair on the
20th of May 2022 from 3-7 P.M PHT,
where 10+ partner universities from the UK and the USA would be waiting to meet you. Speak to them one on one and get all the information you would need to embark on a study abroad experience.
Why attend the UK & USA Virtual Education Fair?

Participate from the comfort of your home



Personalized guidance from 10+ partner universities from the UK and the USA

Know all about courses, intakes, accommodations, and more.


Get the latest immigration updates about the UK and the USA
Interact one-on-one with the representatives for financing options.

Get information on post-study work rights in the UK and the USA.
Want to know the latest updates from your favorite
study destinations? Here you go!
The USA
---
Study on-campus as international borders are open since December 2021.

Dropbox and interview waiver for all visa applications till December 2022.

Work for a period of three years after you finish your studies
The UK
---
Enrol for new courses and study on campus from April 2022.

Work for a period of two years after you complete your studies.

 Multiple intakes option during September/October and January/February.
Participating Universities
We at AECC Global provide our students with the right information backed by our expert counsellors' knowledge and believe in providing constant support through every step of the way, to make their study abroad journey as seamless as possible.
Our award-winning team of registered migration agents and PIER-certified education consultants have helped over 45,000 students from over 40 nationalities successfully study with top universities and education providers worldwide.
UniSessions © 2022 AECC Global